Our Lady of the Roses
as She appears
to the Pueblo People of the Southwest
by J. Michael Bear

(the artist's description of the image
follows below the image)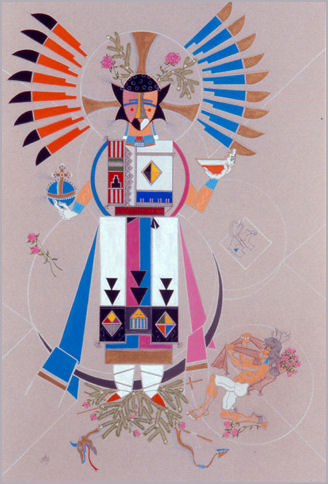 Bestowing upon you my Blessing of Roses Bestowing upon you
all good things whatsoever
from within my robes
of white shell and sunrise
all precious and wonderful miracles
from the place of the first beginning
have I arrived.
The Picture:
Appearing as a Benevolent and caring Kachina Mana, She wears a multi-faceted mask; Zenith of the Universe from where she has come, She is affixed in the Wedding Manta of a maiden Pueblo bride.
The black sash means she will soon bring forth a child.
In her left hand is a terraced medicine bowl to hold the earth and sky in place; The orb in her right hand is for the children of the world.
She bestows upon the person of "Juan Diego" the miracle of the Roses.
She has vanquished evil in the form of the serpent beneath her feet.
The Evergreen represents everlasting life. Among the Evergreen is the cross and the staff of the "Kachina Chief."
All of this is honored and revered in the feast days of the Pueblo people.
Know all of you
that I hold a high place in the Heavens as I move across the rim of the universe
bringing my blessings to you and your people;
For as long as you honor me, so will I intercede for you.
So be it --all good things whatsoever.
by J. Michael Bear, December 12, 1996
Copyright © 2016 The Guadalupe Institute, a New Mexico non-profit corporation, all rights reserved.